Traditionally, Girls were viewed as the weaker gender, delicate, pretty, and drawn to pink-colored items. As a result, many parents used what is best described as "girly names" for their daughters.
However, girly names are fast becoming a thing of the past because, let's face it, the idea of women as the weaker gender is more fiction than fact.
Ladies exhibit tough attributes such as strength, bravery, power, courage, assertiveness, and boldness all the time. So, why shouldn't we call them names that signify strength or bravery?
In this article, we have listed names that signify strength, bravery, a fighting spirit, or a never-say-die attitude in women.
For easy access, we have categorized these powerful female names into categories such as history, names of ancient goddesses, celebrities, religion, heroines, and literal translations.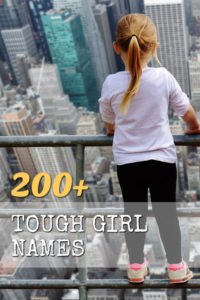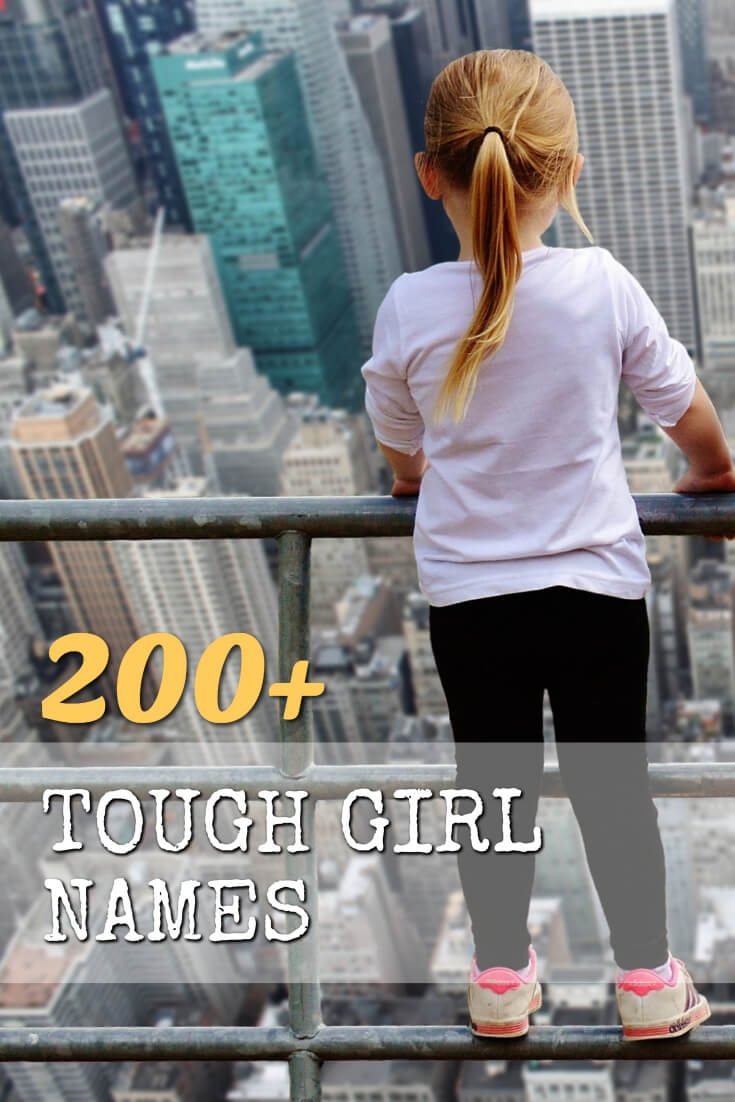 History inspired tough girl names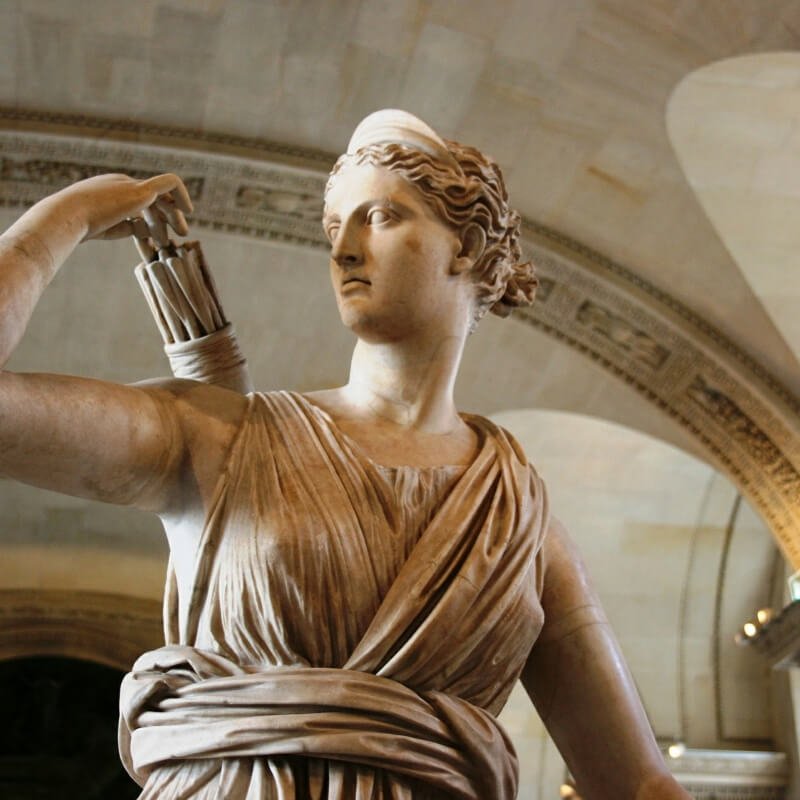 History contains strong ladies who led the way and broke barriers in different aspects of life. Below are names of great, strong, and brave women who have affected each generation with amazing discoveries and feat in politics, science and arts, sports, drama, music, and so much more.
Alexandrine – The first European woman to cross the Sahara Desert. Alexandrine Tinne attempted this feat in 1859
Alice – Another women right activist leader of the suffragist movement was Alice Paul. Alice Walker, on the other hand, is the author of the classic book "The Color Purple."
Alienor – She was once the Queen of France and also the mother of England's Richard III
Amelia – The aviation pioneer Amelia Earhart and Amelia Bloomer who pioneered less restrictive clothes for women
Anna – The first with the surname Shaw, fought for women voting right, while the other with Hedgeman as surname, founded the National Organization of Women in the I960's
Angela – Scholar and a fighter against racism and sexism is Angela Davis.
Angelina – A women's right abolitionist, Angelina Grimke Weld
Aphra – The first professional female writer. The English Aphra Behn wrote many Restoration plays.
Artemisia – A famous artist of the Baroque Era. Artemisia Gentileschi's most famous painting was the "Judith Slaying Holofernes."
Catherine – Inspired by Catherine the Great, who ruled Russia for 34 years
Clara – A notable humanitarian whose passion founded the Red Cross, Nurse Clara Barton.
Cleopatra – An intelligent Pharaoh who was the last to rule Ptolemaic Egypt
Coretta – The wife of Martin Luther King Junior
Dolores – She was the co-founder of United Farm Workers in 1962 for California workers, Dolores Huerta
Dowager – Chinese regent who ruled for 47 years.
Eleanor – Known as the First Lady of the World, Eleanor Roosevelt was a human right champion.
Ella – Also known as the "First Lady of Song," Ella Fitzgerald.
Empress – A female version of an Emperor inspired by Empress Wu of China who ruled in the Tang Dynasty
Elizabeth – Also known as the "Virgin Queen," Elizabeth I was a powerful English monarch
Evelyn – Inspired by the National Medal of Science recipient Evelyn Witkin, a geneticist for her amazing work in DNA research.
Flo – Her name was Florynce Kennedy, a lawyer, lecturer, and activist who was part of second-wave feminism
Frances – Frances Willard, an American feminist
Gloria – A woman right leader and pioneer in the 60's and 70's. Gloria Steinem was involved in the feminist movement of that time.
Hattie – The first African American to win an Oscar, Hattie McDaniel
Hazel – A jazz singer who did her part in breaking the barrier for black women, refused to perform for segregated audiences, Hazel Scott.
Hildegard – She was also known as "Sybil of the Rhine," Hildegard von Bingen was a composer, adviser, poet, writer, and a mystic
Indira – The first and only female Prime Minister of India, Indira Gandhi served four terms.
Jane – An activist of the Progressive Era and co-founder of the ACLU
Joan – Inspired by the French saint and heroine, Joan of Arc
Kahina – The first warrior queen in history
Kartini – The first feminist of Indonesia who has a day named after her.
Kate – Bornstein is known for her work in gender identity.
Lucy – Parsons in the 19th century fought for workers right, and Stone, who has the same first name, also fought s]against slavery.
Mae – One of the first female movie stars, Mae West
Maeve – An ancient queen of Ireland
Margaret – Also known as the Iron Lady, Margaret Thatcher was the first Prime Minister of the United Kingdom
Maria Theresa – Empress of Austria known for her education reforms
Maya – From Maya Angelou, writer, and civil rights activist, Maya Rudolph, comedian and actress to Maya Lin, the architect and artist.
Nancy – A beautiful spy and journalist who worked for the French resistance, Nancy Wake was a World War II heroine.
Nina – She was the first Mexican woman to run for US Congress, Adelina Nina Otero-Warren
Queen Victoria – Whichever name you choose, either "Queen" or "Victoria." Inspired by the queen who ruled the British Empire for 63 years
Rosalie – An active voice of the women's suffrage movement, Rosalie Edge was a New York socialite of the 20th
Ruth – Known as the Notorious RBG, Ruth Bader Ginsburg is a Supreme Court Justice with pioneering strides in law and women's rights.
Sally – Sally Ride is the first American woman to go into space.
Shirley – Shirley Temple, an American actress who began her career at 3. Also in 1963, Shirley Chisholm was the first black woman in the United State Congress
Theodora – The Empress of the Byzantine Empire, who fought for women rights
Wilma – Wilma Rudolph was the first American athlete who won three gold medals in one Olympics.
Yuri – A Japanese American herself, Yuri Kochiyama fought for the reparation of those forced into internment camps during World War II
Zenobia – Queen of the Palmyrene Empire in Syria, she ruled in the 3rd century
Zora – Literary star known as the author of a classic" Their Eyes Were Watching God" is Zora Neale Hurston
Literal tough girl names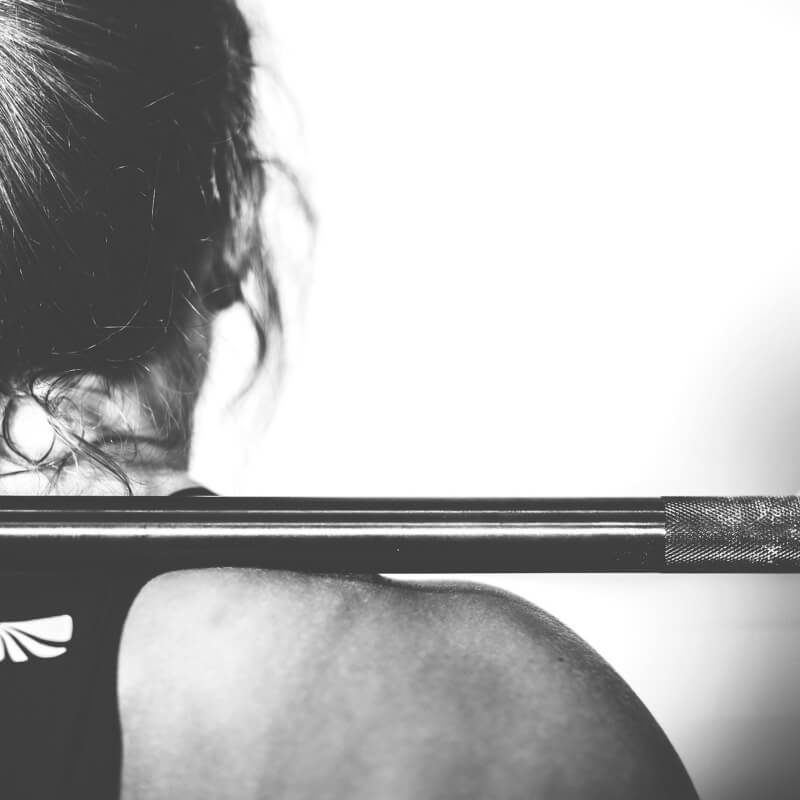 If you are looking for sweet, feminine baby names with strong meaning for your daughter, you are in the right section. Sometimes a literal meaning can be better than an inferred meaning. The names listed here have Old German, Sanskrit, Old English, Irish, Arabic, Greek, and many other origins and mythologies.
Aadya – Sanskrit origin which means power that births the five elements
Adira – A simple Hebrew name that means "strong."
Althea – A name that has its roots in Greek mythology, it means "with healing power."
Andrea – This is the female version of Andrew, which means "strong."
Arabella – A name with German origin that means "eagle heroine."
Audelia – Originating from England, the name means "strength and nobility."
Audrey – This is an old traditional English name that means "noble and strength."
Bathilda – This is a literal translation of the word "heroine" in the German language
Bernadette – "Strong and brave as a bear," a German name fitting for your sturdy girl
Braelynn – A modern combination of two names the means strength, Brianna, and Lynn
Branwen – This is of Welsh origins. It means "heroine of one of the tales of the Mabinogion."
Bree – Although it sounds like a nickname, it means "strength or an exalted one."
Bria – A modern derivative of the Irish name Bridget which interprets as "vigor."
Briana – It is the female version of the name Brian, and it means "Strong, honorable and virtuous."
Bridget – A similar variation of this name is Brighid, which means "Strength or exalted one."
Carla – A Portuguese name for a strong girl.
Clotilde – A German name that translates as "heroine."
Eberhard – It means the "strength of an animal," with German origins
Edrei – An Old Testament name of a town in the Kingdom of Bashan that means "strong and powerful."
Emersyn – It means "bravery." The female variation of the name Emerson
Elda – A sweet-sounding tough girl name that means "warrior."
Elfrida – It means "elf power," rooted in English mythology
Finley – A popular Irish name that is appropriate for your girl. It means "fair-haired hero."
Gabriella – Gabriel means "God is my strength," and this is the feminine version
Gabrina – Translates "hero of God" in the Italian language.
Gertrude – You can call your baby "Gertie" for short, a German name that means "strong spear."
Gesa – A classic Dutch name that means "strength of a spear."
Gordana – Simply means "heroic," a name originated from Scotland.
Grainne – A legendary Gaelic heroine
Ida – The German originated name translates literally as "active" in English; however, the name was also the name of the heroine of Tennyson's poem "The Princess."
Isa – The German name for a strong-willed girl
Jaiyana – The Arabic name for strength
Kendra – It is a beautiful name that means "enthusiastic power or wise ruler
Karla – A French name that means "strong."
Karleen – From Old German, it means "womanly strength."
Keren – Similar in spelling and pronunciation to Karen, but this is Hebrew, and it means "strength and power."
Lenna – Another Old German name that means "lion's strength."
Luana – Ever think a warrior can be graceful? Well, this is a German name that means "graceful battle maiden."
Maajida – An Islamic name that means powerful.
Maliha – A Muslim name that represents beauty and strength
Marcella – A powerful Italian name that means "strong, martial, and warlike."
Matilda – A German name that means any of this "battle, power or might."
Maude – A French name, which means "battle."
Melisende – A 12th century Jerusalem queen bore this name that means "strong in work."
Mildred – "Gentle strength" is the meaning of this English name.
Millicent – It means  "Strong at work," you can shorten it to "Millie."
Nakhti – A sweet name that also means "strong."
Nina – Of Native American origins, this name means "strong."
Otilie – Does not sound like a feminine name, but it means a "fortunate heroine."
Philomena – A Greek name that translates to "lover of strength."
Rainey – This name means "counsel power."
Trudy – Perfect German name for that sweet girl that is universally strong
Valda – An alternative to this German name is Velda, both mean "rule and power."
Valencia – This is a place in Spain that means "brave and strong."
Valentina – The female variation of Valentine, which simply means "strength."
Valerie – A French name that means "strength and health."
Vanshni – Of a biblical origin, which means "strong."
Wyetta – An Old English name that means "war strength."
Heroine inspired tough girl names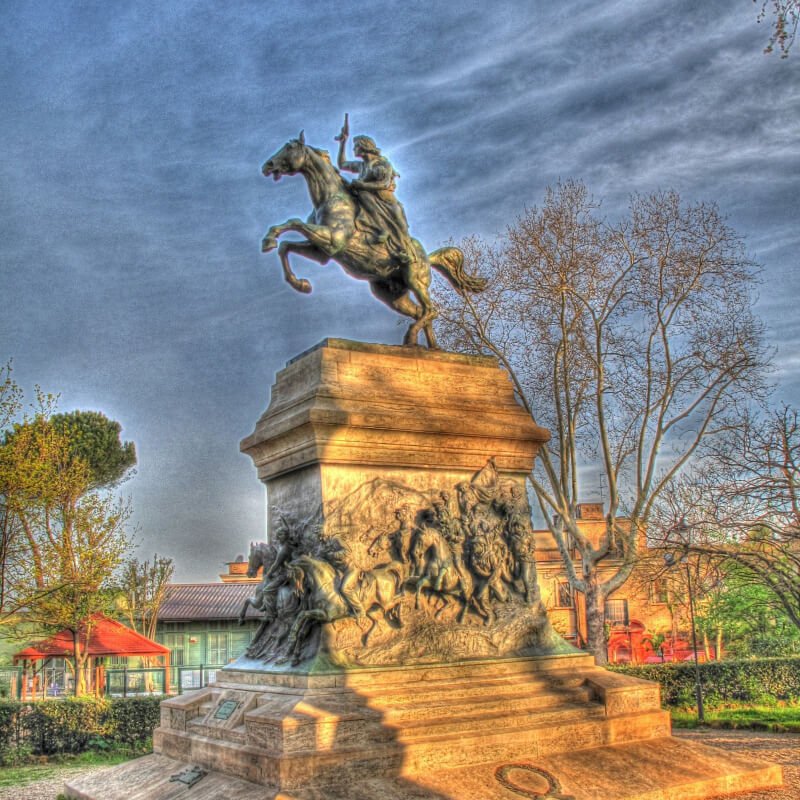 If you are a movie or book lover and you particularly have a soft spot for female heroes, or you had a heroine that you hoped to be like when you were a child, then this section is just what you will like. The following are names of Heroines from books, movies, and other forms of literature.
Aeon – The warrior of the post-apocalyptic 25th-century film, Aeon Flux
Arya – A popular character on the infamous Game of Thrones
Cassandra – One of the memorable Batgirl character.
Daisy – Heroine in Star Wars, called Rey, played by Daisy Ridley.
Diana – Popularly known as Wonder Woman, Diana Prince is an undeniable superhero.
Gorgo – The Queen of Sparta
Eowyn – The brave lady in the famous Lord of the Rings trilogy
Harley – Harley Quinn, a member of the notorious Suicide Squad
Hermione – Harry Porter's friend and also the name of a Greek witch
Jubilee – Apart from the joyous notes of the name, it was the name of Jubilation Lee, a heroine in the '90's X-men Series
Kamala – The Muslim teen superhero in Marvel films who inspires many young hearts
Kara – Cousin of Superman and a Supergirl herself.
Katniss – The pretty archer in the film "Hunger Games."
Katana – A pretty martial artist, an Outsiders, and Justice League member
Lara – In the movie "Tomb Raiders," Lara Croft is surely a badass girl.
Leeloo – She acted as the most powerful weapon in the world in the movie "The Fifth Element."
Leia – The rebellion leader in "Star Wars."
Letty – Amazing mechanic in the "Fast and Furious" series
Merida – The headstrong princess in the cartoon "Brave."
Mulan – The courageous lady who wanted to go to war with others
Natalia – Also known as the "Black Widow" in the Avengers films, played by Scarlett Johansson
Pamela – An English name for the heroine in the book "Arcadia" by Sir Philip Sidney
Pilar – A brave heroine in the play, "For Whom the Bell Tolls" written by Hemingway
Raven – The shape-shifter Mystique in the X-Men movie
Scarlet – A badass mystic queen in the Avengers series
Selina – The real name of Cat woman
Storm – The white-haired beauty in the X-Men franchise
Trinity – She was the badass computer hacker in "The Matrix."
Viola – This was the English heroine of Shakespeare's piece titled the "Twelfth Night."
Violet – A woman with unusual strength in the movie "Ultraviolet."
Xena – The warrior in "Xena, the warrior princess."
Goddess inspired tough girl names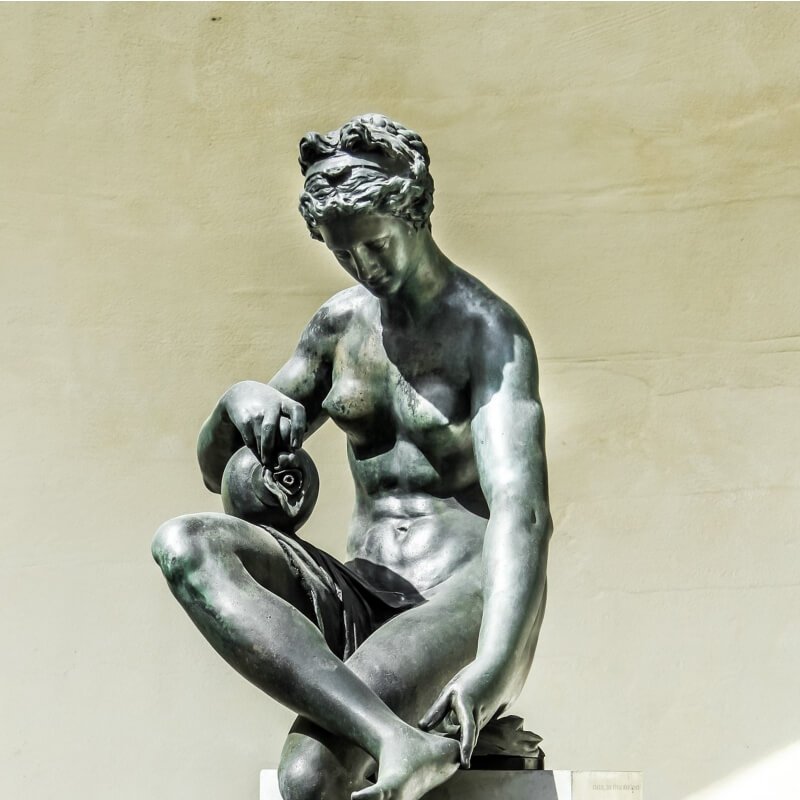 Some folklores and mythologies support the existence of gods and goddesses a long time ago. This category of female names contain names of powerful ancient goddesses who were seen as tough immortals. Here, we enumerate what the goddesses represent and what they are honored for. Don't forget, most goddesses were also known for their beauty and aura.
Aine – Goddess of summer, wealth, and love according to Celtic mythology
Aphrodite – Greek goddess of love and fertility
Arianrhod – Celtic goddess of fertility, rebirth, and all that has to do with the circle of life.
Artemis – The goddess of nature, hunt, and birth, the Greek goddess of the free spirit.
Athena – She is the Greek goddess of war, domestic crafts, and wisdom.
Bast – In Egyptian mythology, she is the cat Goddess. She loves music, perfume, and dance. Furthermore, she protects women and children.
Ceres – Her name means "to grow," and she is the Roman Goddess of grains and agriculture.
Cerridwen – The Celtic Goddess of magic, astrology, poetry, moon, nature, art, and science
Demeter – Also known as "Earth Mother" in the Greek folklore. She is the Goddess of harvest.
Eirene – The Greek Goddess of Peace, you can spell as "Irene."
Eos – The happy Goddess in Greek mythology
Epona – The Celtic Goddess is known as the protector of mules, donkeys, and horses
Freya – The Nordic Goddess of Love, beauty, magic, war, wealth, and divination
Frigg – She is the Nordic Goddess of marriage, motherhood, and all things home
Gaia – She is known as "Mother Earth" to the Greeks.
Hekate – Greek Goddess of crossroads, magic, and witchcraft
Hera – Goddess of marriage and the Queen of Olympians, according to Greek mythology.
Inanna – This is the Sumerian Goddess of love, war, and fertility
Indunn – The Nordic Goddess of youth and springtime
Iris – She is the messenger to the Gods, as believed by the Greeks. She is also the Goddess of the rainbow.
Isis – Goddess of life and magic, the Egyptians translates the name as "she of a throne"
Juno – Of Roman mythology, she is the Goddess of marriage, pregnancy, and childbirth. It is believed that she protects the finances of her people.
Lakshmi – This is the Goddess of Hindu origins that relates to abundance and wealth.
Maat – She is the Goddess of justice, balance, and truth.
Minerva – A Roman Goddess believed to exhibit high intelligence, wisdom, and crafts
Morrigan – She is the queen of phantom, demons, and death. A Celtic Goddess of war and battle
Nike – Greek Goddess of victory, which is why her name is used as a popular brand for athletic sportswear.
Ostara – A German Goddess associated with dawn and Easter
Parvati – Goddess of love and Devotion in Hindu mythology
Pomona – The Roman Goddess believed to be the protector of fruit trees and gardens.
Rhea – The Greek Goddess of fertility for both soil and women
Saraswati – You can call your baby, "Sara." She is the Hindu Goddess of language, arts, and knowledge.
Selene – A moon Goddess as believed by the Greeks
Seshat – The name translates as "she who scribes." She is the Egyptian librarian Goddess responsible for architecture, accounting, astronomy, mathematics, and historical records.
Themis – Greek Goddess of divine order, justice, and customs.
Venus – The popular Roman Goddess of love and beauty. She represents womanhood.
Vesta – Another Roman entity who is the guardian of the sacred flame
Bible inspired tough girl names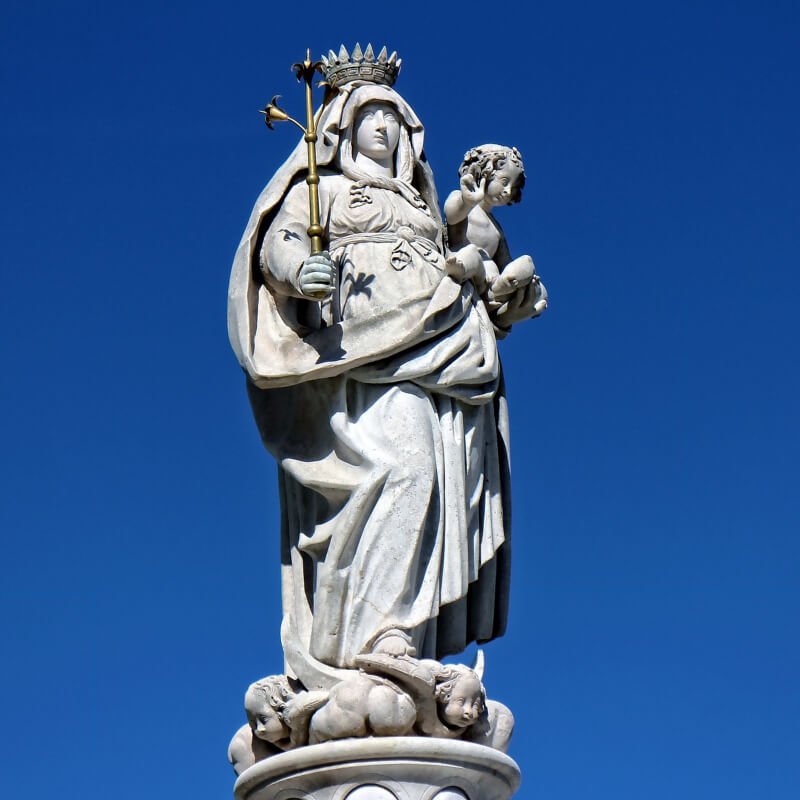 This section highlighted powerful and fearless women in the bible, who through their faith and actions, changed their life and generation. The names listed here may not mean powerful or strong, but what these women achieved require some measure of toughness.
Abigail – A woman of great courage, discernment, and wisdom
Achsah – The bold daughter of Caleb who asked for more blessings
Deborah – A fearless Judge who ruled with justice and compassion
Delila – The seductive lady that cut off Samson's hair
Esther – A queen who risked her life to save her people
Hannah – The mother of Samuel, one of the greatest prophets that lived
Jehosheba – "Sheba" for short, she fled with her son from destruction, and as a result, the future of Israel was preserved.
Lydia – A wealthy woman who had the heart for God
Mary – The humble mother of Jesus Christ
Mary Magdalene – The first female to announce the risen Lord
Miriam – Moses sister who helped her brother fulfill his assignment
Phoebe – She was a trustworthy woman who helps deliver Paul's letters to the church
Priscilla – She and her husband was great mentors and example
Ruth – By choosing to stay with her mother-in-law in a strange land, she became the great-grandmother of King David.
Sarah – The wife of Abraham, the father of faith, who with faith had a baby at 90 years
Zipporah – The wife of Moses who led the Israelites out of Egypt
Celebrity inspired tough girl names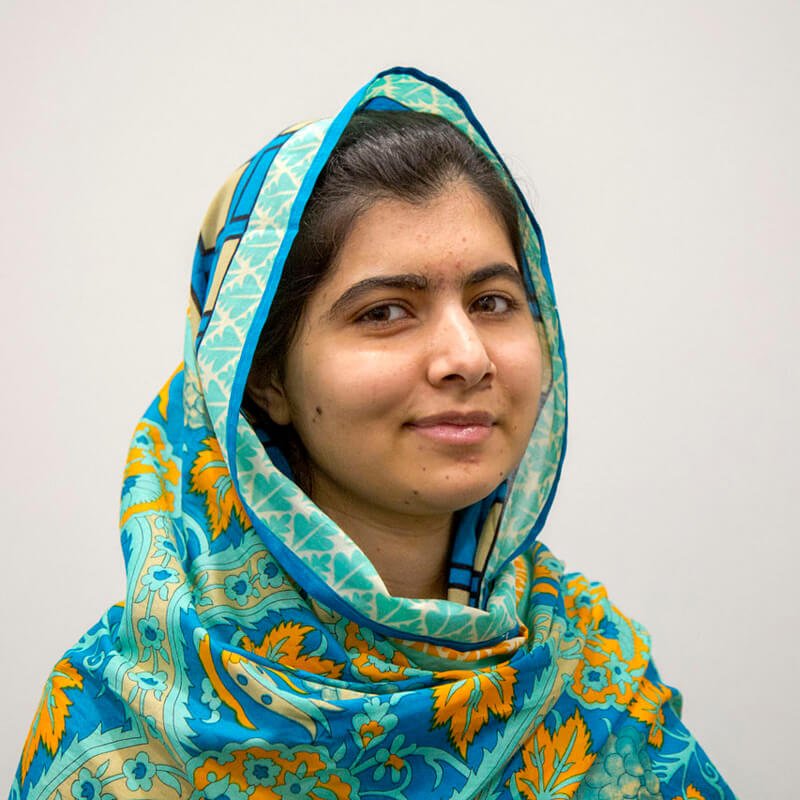 These are world-renowned women and ladies who acquired fame and stardom in arts, music, comedy, television, business, and other social avenues. However, they are celebrities not only for who they are but for the values, experiences, and inspiring statements that show the power and impact they have around the world. Here is a list of celebrity-inspired tough girl names:
Adele – one of the biggest selling artist of all times with many inspiring songs to her name
Amy – Amy Poehler is an actress with a strong message that women should not go crazy trying to fulfill all expectation placed on them
Angelina – She is an actress and a humanitarian. Angelina Jolie, the UN Goodwill Ambassador
Aretha – The queen of soul, Aretha Franklin
Ariana – Ariana Grande, a singer making waves
Beyonce – "You can be an entrepreneur and be assertive," says the popular singing sensation.
Coco – Inspired by Coco Chanel, the fashion icon
Ellen – Ellen DeGeneres, an award-winning talk show host
Emma – Emma Watson is also a women's rights activist.
Emilia – Emilia Clarke believes that strength comes in different forms.
Hilary – Hilary Clinton with 30 years in the public eye
Lady – Lady Gaga believes women should not be afraid of being assertive.
Lucy – Lucy Liu believes women should be financially independent
Michelle – The first black First Lady of the United States of America, Michelle Obama
Naomi – Naomi Campbell, American Supermodel
Natalie – Natalie Dormer attributes hateful comments to people's insecurities
Nicki – Female rapper Nicki Minaj advises girls not to give up on themselves
Oprah – Oprah Winfrey, one of the richest women on earth
Rihanna – A great artist who shuns all forms of sexist names
Sheryl – Sandberg is an author and the COO of a popular Facebook site.
Taylor – Taylor Swift once said, "you are not the opinion of somebody else who doesn't know you."
Tyra – Tyra Banks, a successful Supermodel and producer of America's Next Top Model show
The names above are powerful, brave, and tough female names you can call a girl, either as a name or a nickname.
Hopefully, She would take a similar path, and sometimes down the years, we will include her name on a list of tough girl names or nicknames.
Also, if you know any strong girl name that was not listed in this article, go ahead and tell us in the comment section. Don't forget to include the meaning of the name or the origin of the name. Several expectant mothers are counting on you!
Lastly, if you know anyone struggling with the famous naming decision, kindly share this list of tough girl names with them; I am sure they would be grateful.